The Fractal chandelier an industrial aesthetic inspired by nature. Features metal branches and hand cut crystal plates that mirror these natural motifs through a modular structure and reflecting patterns of crystal light.
Please note: Your payment does not include customs duties, local taxes or any other import fees.
If you have any questions about our products, please contact us and we will get back to you within 24 hours.
Product Size
Size: Dia 34cm x H 28cm / ∅ 13.4″ x H 11″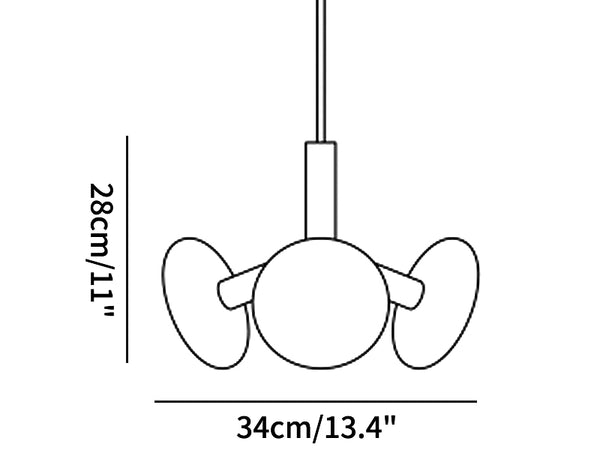 Size: Dia 73cm x H 38cm / ∅ 28.7″ x H 15″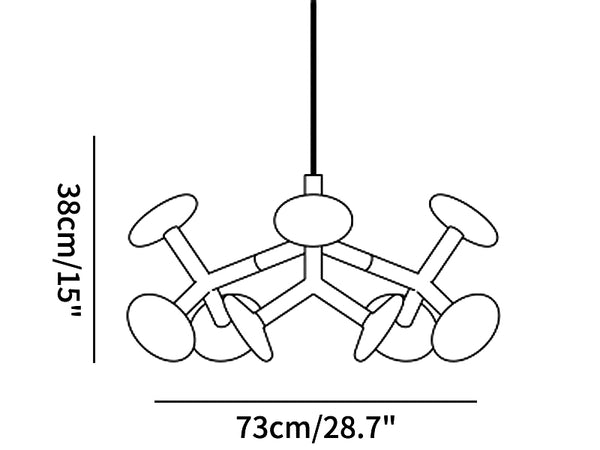 Size: Dia 73cm x H 60cm / ∅ 28.7″ x H 23.6″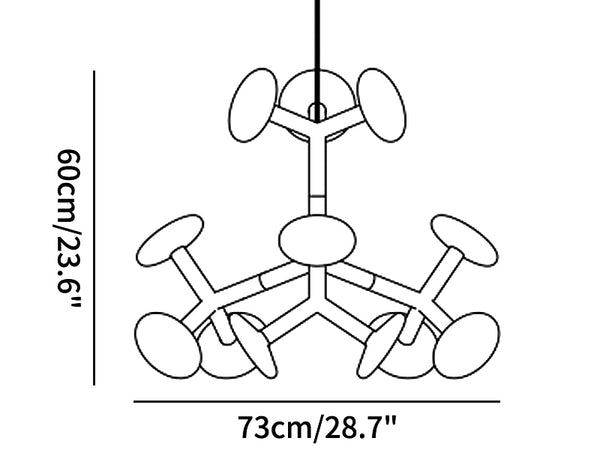 Details
Material: Iron, Glass
Light source: Integrated LED
Kelvin range: Warm White (2700K to 3300K), Cool White (3300K to 5300K), Daylight (5300K to 6500K)
Power: ~3W
Voltage: AC 110~240V
Mounting: Ceiling
Weight: 4kg / 8.8lbs
Factory shipment: 5-10 days on average to prepare
Battery: No
Driver Required: Yes
Finishes: Gold, Black
Glass options: Clear
Process: Electroplating, Polishing, Baking paint, Blown glass
Control method: push button switch (not dimmable)
We provide 150cm / 59″ wires, which can be lengthened as needed.(Contact us)
Q: What is a fractal chandelier?
A: A fractal chandelier is a lighting fixture inspired by fractal geometry, featuring intricate patterns and repeating shapes reminiscent of natural fractal formations.
Q: What materials are commonly used for fractal chandeliers?
A: Fractal chandeliers can be made from various materials such as metal, glass, acrylic, or even wood, depending on the design and manufacturer.
Q: Are there different sizes available for fractal chandeliers?
A: Yes, fractal chandeliers come in different sizes to accommodate various room sizes and ceiling heights. They can range from smaller fixtures suitable for intimate spaces to larger ones for more expansive areas.
Q: What styles of fractal chandeliers are available?

A: Fractal chandeliers are often considered contemporary or modern in style due to their unique geometric designs. However, they can also incorporate elements of art deco or minimalist aesthetics, depending on the specific design.
Q: Can I find energy-efficient options for fractal chandeliers?
A: Yes, there are energy-efficient options available for fractal chandeliers. Many models are compatible with LED bulbs, providing long-lasting illumination and reduced energy consumption.
Q: How do I install a fractal chandelier?
A: Installing a fractal chandelier typically involves securing it to the ceiling using screws or hooks and connecting the electrical wiring. It is recommended to consult a professional electrician for safe installation.
Q: Are fractal chandeliers dimmable?
A: Some fractal chandeliers can be used with dimmer switches, allowing you to adjust the brightness and create different lighting atmospheres. However, it depends on the specific model and its compatibility with dimming systems.
Q: How do I clean and maintain a fractal chandelier?
A: Cleaning and maintenance instructions may vary based on the specific materials used. Generally, regular dusting with a soft cloth or duster is recommended. For more thorough cleaning, refer to the manufacturer's instructions and follow their guidelines for each component of the fractal chandelier.
Q: Are there any installation requirements or considerations for ceiling height?
A: It's advisable to consider the ceiling height when selecting a fractal chandelier to ensure proper proportions and avoid potential obstructions. Some fractal chandeliers might have specific installation requirements or recommendations regarding ceiling height, so it's important to review the product specifications or consult with a professional if needed.
Q: Can I customize the design of a fractal chandelier?
A: Customization options for fractal chandeliers may vary depending on the manufacturer or designer. It's worth exploring if customization services are available, as some companies might offer the ability to modify the size, materials, or finishes to suit your specific preferences.